Unique Entertainment presents BEBIDAS GOLD the Ultra Drinks Inclusive party on March 10 2007 at 9 NORBURY DRIVE (NORBROOK).
BEBIDAS is shaping up to be the most talk about Ultra GOLD & WHITE Drinks Inclusive party for 2007.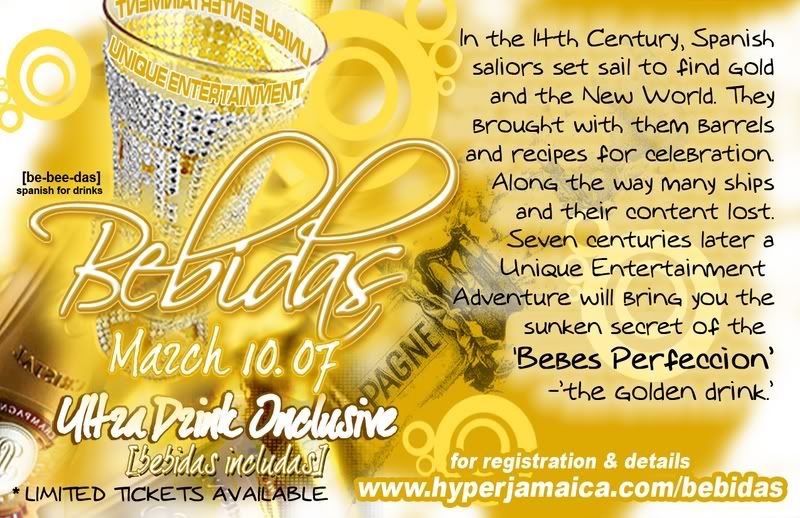 BEBIDAS will provide ear candy from Renaissance Disco, Jazzy T, DJ Smoke and ZJ Liquid and a variety of mix and exotic liqueur mixes from two(2) 40ft bars provided by BARS TO GO.
Bar services will be provided by kingston's number one bar service company BARS TO GO which are known for their excellent bar service. Detox will be provided by NESCAFE. The admission for this event is $1000. Tickets can either be bought pre-sold or at the gate. Pre-sold tickets can be bought by calling these numbers, 442-3895, 854-9298, 845-2967 and 583-1257. Gates open at 10pm-4am sharp! Secure parking provided. Sponsors for Bebidas include May Pen Ice, Hype TV, Dr Lushus, Partyxtraz and many more.

BEBIDAS is a Partyxtraz.com recommended event.

Come out in your numbers and let us enjoy this wonderful golden experience!!!!!!!