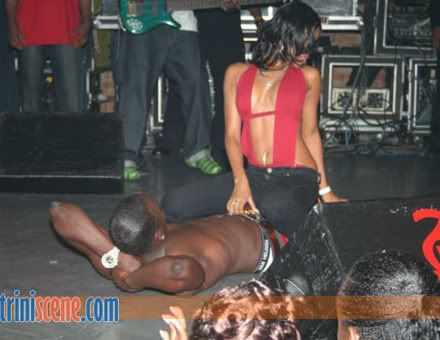 Police searched the Zen nightclub yesterday, halting business
at the venue for just over two hours.

According to the Express newspapers the officers may have been searching for footage of R&B/hip-hop performer Akon allegedly engaging in sex acts at his recent concert at the nightclub. Keate Street, Port of Spain was thrown into chaos as plain clothes and uniformed police officers surrounded Zen while others searched inside the venue.

Deputy Commissioner of Police, Winston Cooper, confirmed there was a search yesterday. However, he said it was part of the ongoing investigation into the dirty dancing incident at the nightclub, which featured 15-year-old Danah Alleyne and Akon. Cooper said the police did not find anything yesterday.
According to police sources, a warrant was obtained by the police to search the premises for surveillance video footage of the club from the particular night of Akon's performance.

On Tuesday, Zen management apologised to Alleyne, her family and the public at large "with the hope that with time, the embarrassment and pain caused by the incident will ease, especially for Danah".

Attorney Kelvin Ramkissoon has written to Director of Public Prosecutions, Geoffrey Henderson, on behalf of the Alleyne family, asking him to make a public call to those responsible for publications and commentaries on the issue to respect Alleyne's legal status. According to the law, Alleyne is a child.

Meantime, Minister in the Ministry of Community Development, Culture and Gender Affairs, Eudine Job-Davis, has said that patrons should now boycott the nightclub to protest what she described as "that kind of behaviour"

source:islandevent.com