Voice Mail's new album "Let's Go" will hit stores on April 18th; the album boasts production work from the likes of Christopher 'Langmann' Birch, Donahue Riley, Donovan Bennett, Tony 'CD' Kelly, Delano Thomas from Renaissance, Rohan 'Sno Cone' Fuller, Nigel Staff and Danny Champagnie.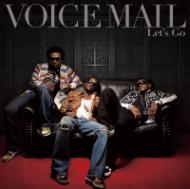 "Let's Go" is the follow up to Voice Mail's Japan gold selling disc "Hey" and features18 tracks including songs such as "I Need You," "Clap Off," and 'Love."
This is a more mature album from our previous album Hey. We put a lot of work and effort into this album and we are confident that our fans will be pleased with the finished product', said Oneil Edwards, a member of Voice Mail.
Meantime, Voice Mail recently snapped up an endorsement deal with Prohibit clothing in Japan. The group was featured in advertisements last year for Bashco. Voice Mail is also the one of the many entertainers featured in advertising campaigns for Cable and Wireless' bmobile brand.