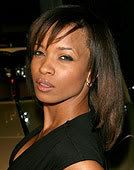 Superhead went running her dick suckers to the New York Daily News after learning that Shaquille O' Neal filed for divorce from wife Shaunie.

"On the first date, he gave me $10,000," Karinne Steffans told us yesterday. The infamous "Video Vixen" said she had a relationship with O'Neal after he became engaged to his soon-to-be-ex-wife, Shaunie.

"Over four months, [he spent] more than $40,000 on me, as far as I can remember."
In "Confessions of a Video Vixen," the video dancer dished on her romances with Shaq and other celebs, including Jay-Z, Ja Rule, Ice-T, Bobby Brown and Usher.

Which makes it awkward when she runs into the wives — like she did with Mrs. O'Neal in July.

"Just recently at the ESPY awards," she chuckled, "we both had the same hairstyle and everything."

SOURCE


Technorati Cosmos: related links

jamaica reggae soca hiphop dancehall caribbean party pop gossip rumours

Jamaica/