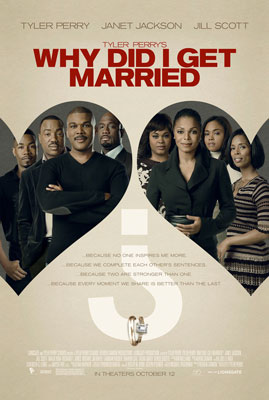 ...she's just gotten too hefty. She thinks they're still in love...

Tyler Perry does it again, this time he introduces us to a trio of upper-middle class married friends who take group vacations every year to consider why they got married, confront the issues they have in their marriages and hold each other accountable for the stability of their unions. He assembles a wonderful cast including a post-wardrobe malfunction Janet Jackson; R&B songstress Jill Scott; the man formerly known as "Spawn", Michael Jai White; Tyra Banks' B.F.F, Tasha Smith; Malik Yoba and Richard T. Jone; and relative newcomers to the big screen Denise Boutte and Sharon Leal. And lest I forget, Perry is in the film as well. He is also the writer, director and producer—how is that possible?

The film explores the deeper issues of marriage such as infidelity, emotional abuse, coping with the loss of a child and the imbalance that occurs when one spouse wants children more than the other one does.
the film takes the weight off of men as the troublemakers in marriage and makes the women burden-bringers. The women in this film wear the pants, are obsessed with career and bring more drama than a little bit to the screen.
The plot concerns an annual retreat orchestrated and inspired by one of Dr. Patricia's (Janet Jackson) books where by she encourages couples that are friends to get away once a year and explore why they got married and what keeps them together.
The couples break down like this: • Dr. Terry (Tyler Perry) and Diane (Sharon Leal): he's a pediatrician, she's a high powered attorney. He wants more kids, she doesn't. He thinks she's married to her Blackberry®. She thinks he is jealous of her being made a partner in her firm. • Dr. Patricia (Janet Jackson) and Gavin (Malik Yoba): She's a professor and best-selling author, he's a high-powered architect and real estate developer. They seem fine on the surface, but the loss of their infant son weighs heavily upon them. • Angela (Tasha Smith) and Marcus (Michael Jai White): she's a biochemist who created her own line of beauty products and owns a salon, he's a former professional ball player who got injured and now works in her salon. She thinks he's overly preoccupied with his first wife. He thinks she's too controlling. • Sheila (Jill Scott) and Mike (Richard T. Jones) and Trina (Denise Boutte): Mike and Sheila are married and long time companions. He thinks she's just gotten too hefty. She thinks they're still in love. Trina is Sheila's friend whom they've both invited along for the trip. Mike thinks he might prefer Trina to Sheila.
This year, they've decided to vacation in a Colorado mountain lodge. Diane and Terry are first to arrive. The friendly local sheriff, Troy (Lamman Rucker) lets them in to their new lodge for the week—it used to belong to his now-deceased father. They start to settle in, but the bickering gets the best of them. Terry is sick of the Blackberry® and Diane not being able to spend any time with him or their daughter. Gavin and Patricia are next followed by Angela, who's already had way too much to drink, and Marcus who immediately corners Terry requesting a shot to cure him of something he picked up during a recent affair. This is the first indication that all is not as happy as it seems despite the idyllic setting. Mike and Trina are next to arrive having flown and allowed Sheila to drive alone after an embarrassing scene on the plane where she is asked to deplane due to her inability to fit in a single seat and not having purchased a double. The very thought of their dear friend driving in story weather alone sends the women over the edge. They berate Mike mercilessly. They are also none-to-pleased to see the affectionate interactions between Mike and Trina. Unfortunately, downed trees on the road trap Sheila at the Sheriff's station with Troy for the night. The next day, the real 'fun' begins as the couples begin to wear more and more one each other as to their respective spouses. Angela spots Mike sneaking into Trina's room the night before, so one can only imagine what the hot-head who starts drinking promptly at 11:00 am will begin to say. It turns out that nearly everyone has a deep, dark secret just waiting to explode forth, and the 'family' dinner that next evening will be where it all goes down. Every relationship in the bunch will be tested, and with great humor and emotional drama the means will prove important to the ends.
Tip: If you are in Kingston, Jamaica, you can watch it at the Palace Amusment Theatres; Carib5, Cineplex and Multiplex at 5:20 & 8:30, 5:40 & 8:40, 6:00 & 9:00 respectively
SOURCE