First thing, this event was above expectations. I mean, it delivered everything it wanted to, and much more. I could find no complaints. It was a social event AND a party (rare to see both). Decor: If you're going to have a themed party, then the theme should be evident in every aspect, down to the minute details. It was clear that the Hi Definition and I.G.C Entertainment knew what they were doing (pics below).
The minute you enter the venue, you see the red carpet. Everything was thought of to replicate the feel of an important red carpet event such as the Oscars. From the beautiful females in red satin dresses and gold high heels welcoming you to the event and handing out roses to you throughout the party, to the red carpet that you walk on all the way to the entrance of the party itself, to the white Oscars billboard that you can have as the backdrop to have your picture taken as the celebrities often do, everything was covered.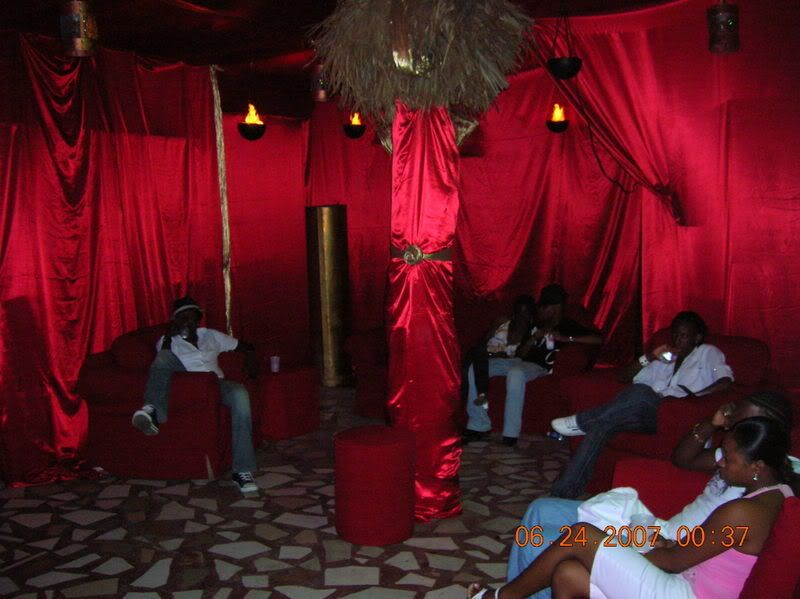 Step inside and you see the "lounge area" decorated in red satin around the poles, on the chairs and couches, and covering the area above. Great area if you want to have some light conversation, or some canoodling with your significant other.) The overhead lights rotate and flash throughout the venue replicating the feel of pictures being taken of us "Stars".

Food: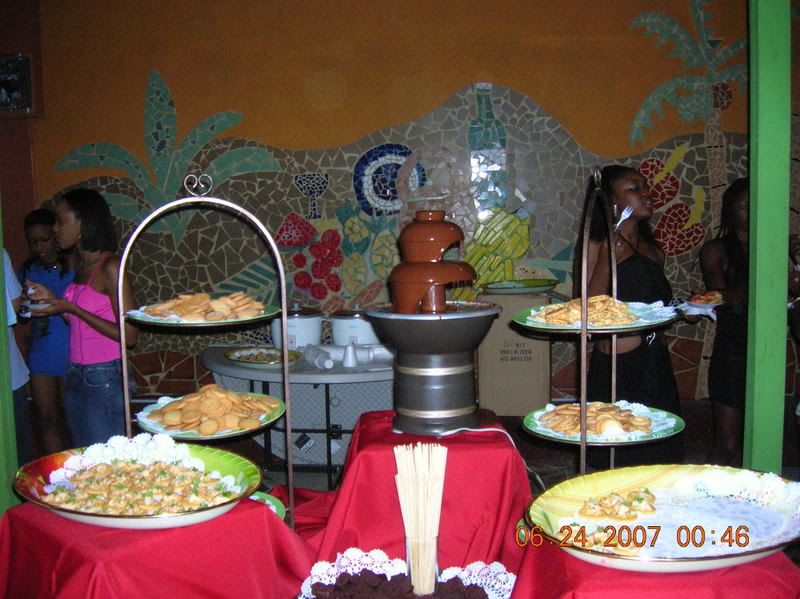 What can one say! I went for food THREE times (there was so much to eat I had to eat in stages). Everything was done to perfection. To whet the appetite, you could drink some chicken or conch soup, or nibble on some crackers and toppings. For entrees, you had about 13 different foods to choose from, in two sections set up on opposing sides of the food area. From garlic bread and lasagne, to lobster, jumbo shrimp (which was oh-so-soft & scrumptious), and beef kebabs, there was food for chicken lovers, pork lovers, and seafood lovers. Then for dessert, one could enjoy their full of the various cookies and brownies, and have the choice of dipping their desserts in the chocolate fondue fountain.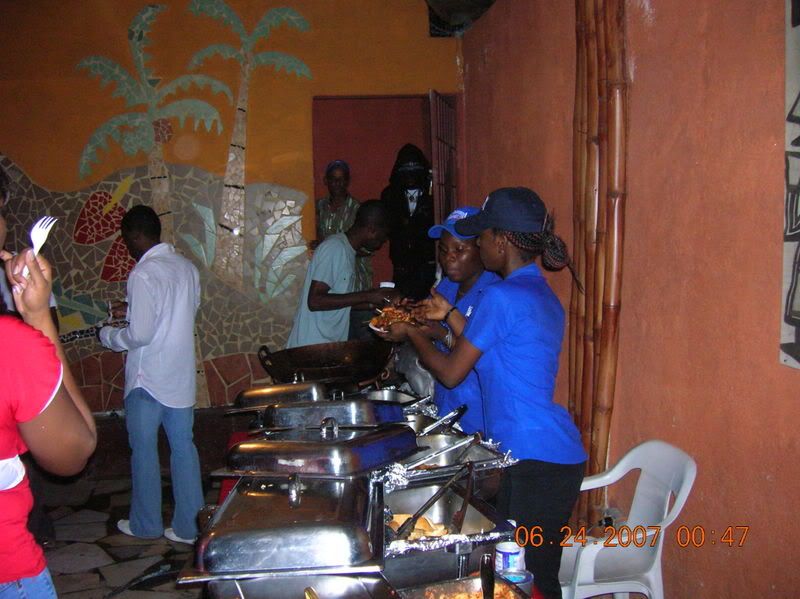 Even with so many various foods to choose from there was never a long line to get the food. Seeing as to how most of it was self-serve, and even for those that weren't, you were able to get your plate as full, or as not-so-full as YOU wish. If you wanted shrimp, you'd get a good amount of shrimp, not just one or 2 pieces. The same could be said about the meats, the lasagne, etc. Thus this reduced the amount of times people had to go to the food section to get their fill which in turn reduced the numbers of persons in the lines at any one time. This showed me that the party bosses know that if people are going to spend their money and support your event, they should get the money's worth – and more! Quantity AND quality!
Drinks:
One of the most important aspects (if not THE most important) is being able to… quench one's thirst with a variety of drinks. In this area, Oscar's did not fail. Firstly, there were four bars. There was an Appleton-Tini bar serving various martini versions using Appleton rums (Gold or White) and fruit juices. There was a Red Bull bar, where you could get your Red Bull + ______ mixes(fill in the blank).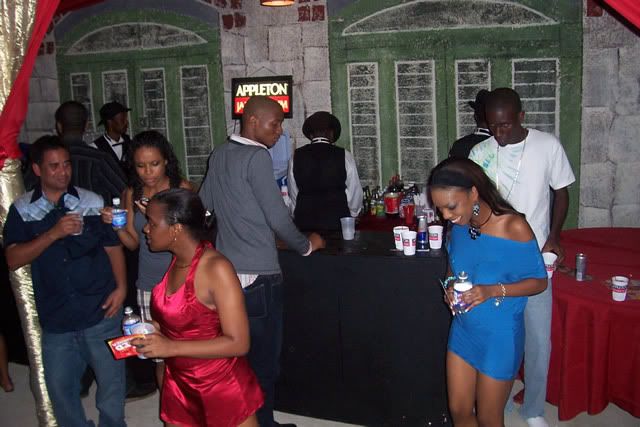 There was a mixed drinks bar (using juices). Then there was the major bar which served everything you would need to enjoy your night- mixed drinks, beer, straight liquor, etc. The location of the various bars also helped in reducing the number of patrons in one section, and allowed people to be able to par in various areas, knowing they wouldn't have to go far to get a drink.
Music: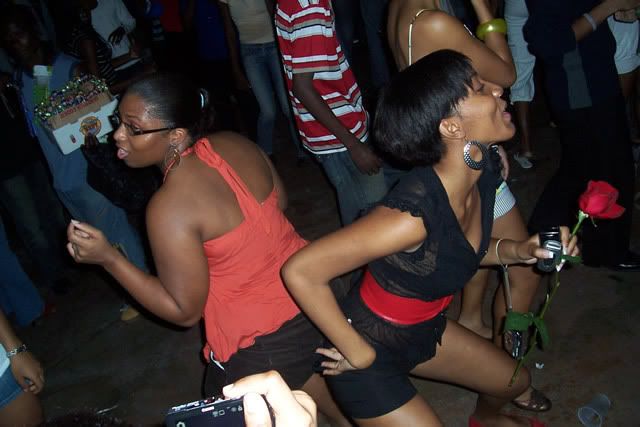 The next best thing to good drinks is great music, and no one could complain about the quality of music. In the beginning, as is norm, there was "warm up music" being played (by Sparkle's Disco). The mellow music allowed patrons to be able to get a drink and eat some food before the dancing began. At about 12:45, the dancehall section began fittingly with some dancehall and hip-hop oldies (my fav!). The tunes of Frisco, Ele, Spragga, Bounty and those top artistes from back in the day and the dances such as Body Basic, Jerry Springer, etc. started out the party segment, and all received a very warm welcome from the patrons. Especially when we
got to hear the remixes of some oldies hip hop beats with some recent dancehall tunes it was safe to say that this party was declared a hit. Of course, the DJ didn't stay too far in the past, and worked his way up the music of now in both the dancehall and hip-hop genres, playing music that never slowed down! Everyone enjoyed being able to do the dances we've known throughout the years. This was evident in the number of females, including myself, who eventually took off our shoes to better enhance our dancing comfort. At around 2:30 or so, Renaissance took over and did what they did best for the rest of the night.
Patrons: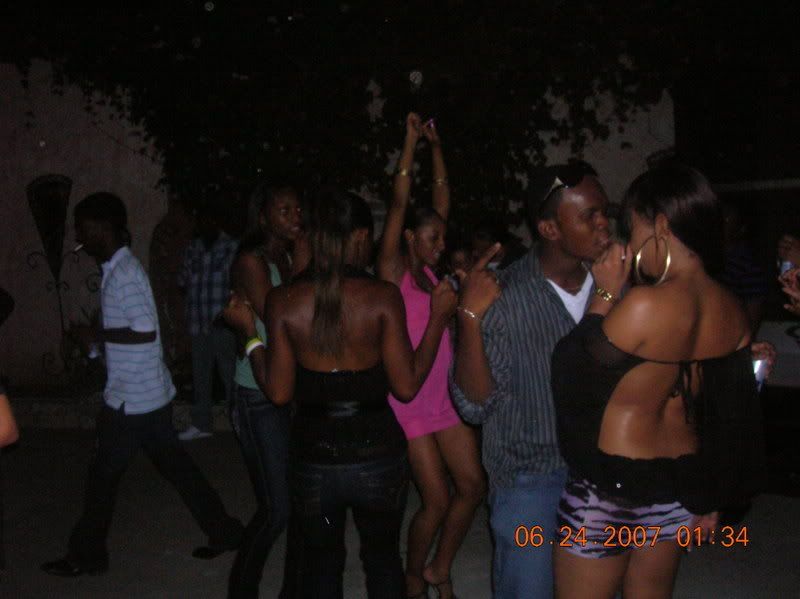 It was pleasing to note that patrons were of all age. From the young adults, to those younger, and those older I would have to say that age gap was pretty wide. And the dress code also varied. Some were formal in dresses & heels and three-piece suits with matching shoes. Some were casual in jeans, blouses, and Polo shirts. Some seemed to come from "uptown" and some from not-so-uptown. Everyone parred, everyone had a good time, and everyone danced the entire night away! Even persons who lymed solo by the walls and the outskirts of the crowds could be seen doing their thing! There were no posers here, just people out to have a good time.
Layout:
The layout of this party was good. With the proper placing of the bars, the tables for persons to eat/dance/talk around, the layout of the food sections, and the attention to details, this party has created a fine quality that we look forward to seeing year after year.

Pics courtesy of entertainmentjade Technorati Cosmos: related links jamaica reggae soca hiphop dancehall caribbean party pop gossip rumours
Jamaica/