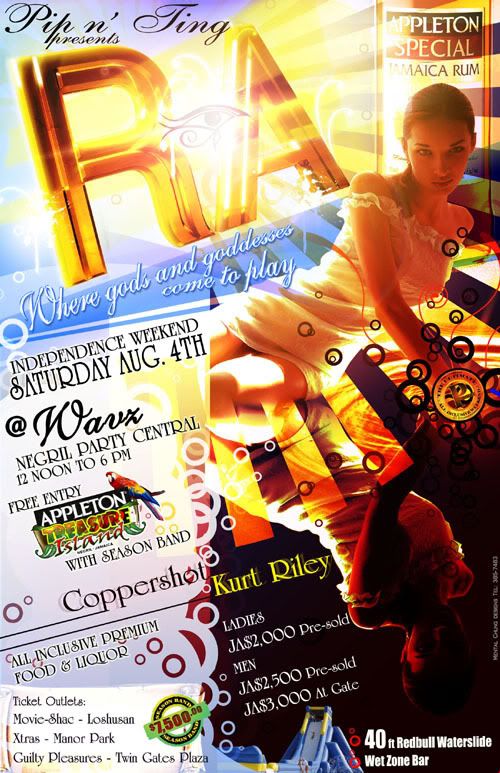 Appleton Treasure Island Pip n Ting RA::Where gods and goddesses come to play! is the second party in the A.T.I series will be on Saturday August 4th at Wavz Negril party central. It is at the most central location in Negril, so traffic and driving too far will not a problem.
Just walk on the beach and you will have beach access with your season band or Pip n' Ting bands. Pip n Ting this year features a 40ft Inflatable Redbull Water slide , WET ZONE BAR (bar that it will be showered all day - keep cool - get your Appleton on!).
Food will be plentiful and easy to access and over 120 ft of bar...no #$%&ing waiting for drinks!!!
Music - the whole Coppershot crew will be there and Kurt Riley will bring the pain. HIP HOP , DANCEHALL .

Admission:
2000 presold LADIES
2500 presold MEN
3000 at Gate
Tickets :: Movie-Shac Loshusan / Xtras Manor Park or Email Partyxtraz.com Click Here to E-Mail Partyxtraz.com

SOURCE

Technorati Cosmos: related links jamaica reggae soca hiphop dancehall caribbean party pop gossip rumours
Jamaica/