It's here again for another year. We have booked our rooms and are now in the process of buying our latest gear and of course our
season bands
to the most anticipated party weekend of the year. However this year we see two of our most favourite Brands Appleton Jamaica Rum and Redstripe going at it, and what an experience it should provide in Negril. We all know the Absolute parties which are sponsored by Red stripe. These year to year parties include (Daydreams, Stages, Wild sides, Colours etc). However people have e-mailed us from as far as Norway saying that these parties have lost their luster and the general patrons ask for something new. Appleton on the other hand have a blockbuster line-up they are coining the Appleton Super Sevens and this line up is super indeed. With parties such as Pip n Ting, Yush, Spirits, Twisted Spirits, Juicey and the two most anticipated parties for A.T.I 'Rhythm and Booze and Extreme Wet n Wild', patrons will be treated to the full A.T.I experience.
Let's compare event by event:
Twisted Spirits vs. Tempted: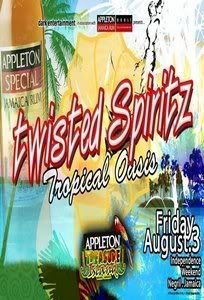 Friday August 3rd we see Twisted Spirits up against Delano's tempted. Twisted Spirits is one of the top twenty parties in Jamaica, tempted is once a year. Red stripe season band holders will no doubt go to Tempted which is normally the kick off for A.T.I but been challenged by Twisted for the first time, Delano might be sweating as we speak.
Pip N Ting vs. Daydreams & Stages: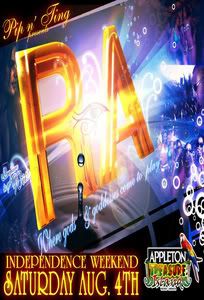 This will be an epic battle for Negril. Daydreams is one of Jamaica's top parties rated in the top three, Stages in my opinion is a novelty act and has done its time so lets compare Daydreams with Pip n Ting. Pip n Ting::"RA Where gods and goddesses come to play" was what Daydreams is now. And with its return after been away for almost a decade it was a smash hit last year and will definitely do well this year however Daydreams will hold its own and that's one day I'd love to party hop. This year Pip N Ting features a 40ft Inflatable Redbull Water slide , WET ZONE BAR (bar that it will be showered all day - keep cool - get your Appleton on!) Food will be plentiful and easy to access and over 120 ft of bar. Two very respected events.
Colours vs. Yush and Spirits: This is an interesting battle as colours is only heard of around independence weekend and is rated the least favourite party of A.T.I. Giants such as Yush and Spirits will crush them.
Wild sides vs. Extreme Wet n Wild: How on earth can you afford to rent the water park for a party? I'm not sure but extreme Wet N wild has gone all out to make this experience the best in Negril and these boys know how to party. A super inclusive event in the Caribbean's most advanced water park I can't miss it. However wildsides is our favourite A.T.I party and it will be interesting to see which one of these events will win Negril. Wildsides is year to year the best event in Negril and this year I'm sure they'll come prepared for the competition. Many people are saying that this is where Negril will be decided.
Rhythm & Booze vs. Pretty in Pink :
This is one that we are interested in. The two most popular female events of A.T.I Rhythm & Booze is ranked in the top ten for parties and Pretty in Pink is a year to year favourite, however pretty in pink has never come up against and competition let alone the likes of a powerhouse such as Rhythm & Booze, and Mainsource know how to throw a party. Rhythm & Booze wins this one hands down and in our opinion based on emails and the buzz going around it is the most anticipated party for A.T.I. Besides pink is a bit played out now or is it?.
Juicey vs. Fusion: Juicey all the way, a different vibe giving the weekend a different flavor. More like a dance than a party it's a good change up for the weekend, Fusion sounds like a social event where you meet and greet people. It is of our opinion that Appleton will take the weekend.
Partyxtraz Top 10 Parties
1.Daydreams
2.Good Times
3.French Connection
4.Frenchmen
5.Osmosis
6.Special Delivery
7.Rhythm & Booze
8.Yush
9.Equilibrium (July 21,2007 @ The Pantry)
10.Twisted Spirits
Technorati Cosmos: related links
jamaica
reggae
soca
hiphop
dancehall
caribbean
party
pop
gossip
rumours
Jamaica/