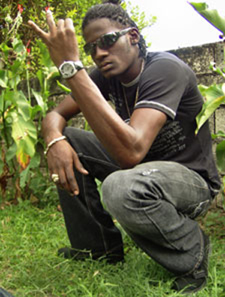 Deejay Aidonia has been locked away in the lab recording up a storm since he was granted bail. Yesterday, he recorded a combination single with his mentor and friend Vybz Kartel a.k.a the Teacha and new rookie sensation, Blak Ryno. However, the single that the streets are already buzzing about is one that chronicles his recent incarceration on a shooting with intent charge. The song is being produced by Stephen 'Di Genius' McGregor of Big Ship Records

The song is called Jail Story, and it is said to be co-produced by Aidonia along with Stephen on the Big Ship/JOP label. He is reported to have recorded it last week Saturday, the day after his release. The song itself is said to be mixed and released this weekend.

Another source confirmed that he had been recording a lot of songs and working really hard since his release.

Last Friday, the deejay appeared in Gun Court and was granted bail. He was charged with illegal possession of firearm and shooting with intent. His next court date will be February 1
Here is the extended entry, where I prattle on about things.

SOURCE