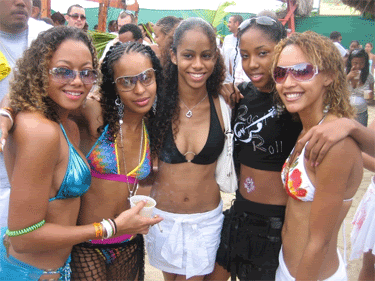 The boxing gloves are on for this Emancipation weekend, as the competition for the hottest parties to take over Negril gets heated with the newly formed Negril Weekend testing its mettle against veterans Appleton and Absolute who have reunited for Absolute Entertainment ATI.
In April the newly formed Dream team organisers of the Negril Dream Weekend announced the formation of the new party series that saw signature events from RTI and ATI weekends joining forces.
Persons who were left wondering what would happen to other parties in the RTI/ATI catalogue now have their answer, as Appleton and Absolute Entertainment, originators of the Negril weekend party series, have reunited. The two started the ATI weekend back in 2001 and separated in 2006, each staging separate party series in Negril, but according to Alex Chin of Absolute Entertainment, Appleton has signed on to sponsor Absolute Temptation Isle and it "feels good."
Not only is ATI on for Emancipation weekend, but the series is also extended from three to four days, August 5 to August 9. Chin told The STAR, "because Thursday is the holiday, we decided to start from the Wednesday with a welcome party in the night which is a new event."
ATI weekend includes Hip Hop Jouvert, Tempted (Delano's Birthday Bash), Pretty in Pink, Rhythm and Booze, Temptation Live Part 1, Stages, Colours, Temptation Live Part 2, Wildsides, Fusion and a new event, The Toga Party. With eleven parties in the series, there will be three to four parties a day for patrons to choose from or to attend all.
On the other hand, the Negril Dream Weekend will consist of parties like, 'Daydreams' the ultimate daytime beach party , 'Twisted Spirits' the 32 mixed drinks inclusive event, 'Xtreme Wet and Wild' at the Khool Runnings Waterpark, 'Yush' Negril's true '90s throwback party, and 'The Concert' which features International and local artistes and celebrities.
ATI doesn't begin in Negril, as the promoters plan to hold islandwide events as a precursor to the party series. Extatic Fridays held each week at Cuddyz in New Kingston, will host a pre-ATI event, and there will also be pre-ATI events held in Montego Bay, Ocho Rios and Mandeville, and weekly pre-ATI parties at various night-clubs in Kingston - all of which will be announced at the official launch in June.
For Chin, the reunited Appleton and Absolute Temptation Isle, represent the best package for Negril weekend. "We are the original weekend so it's back to the original which represented good entertainment," Chin said.

SOURCE: The Star