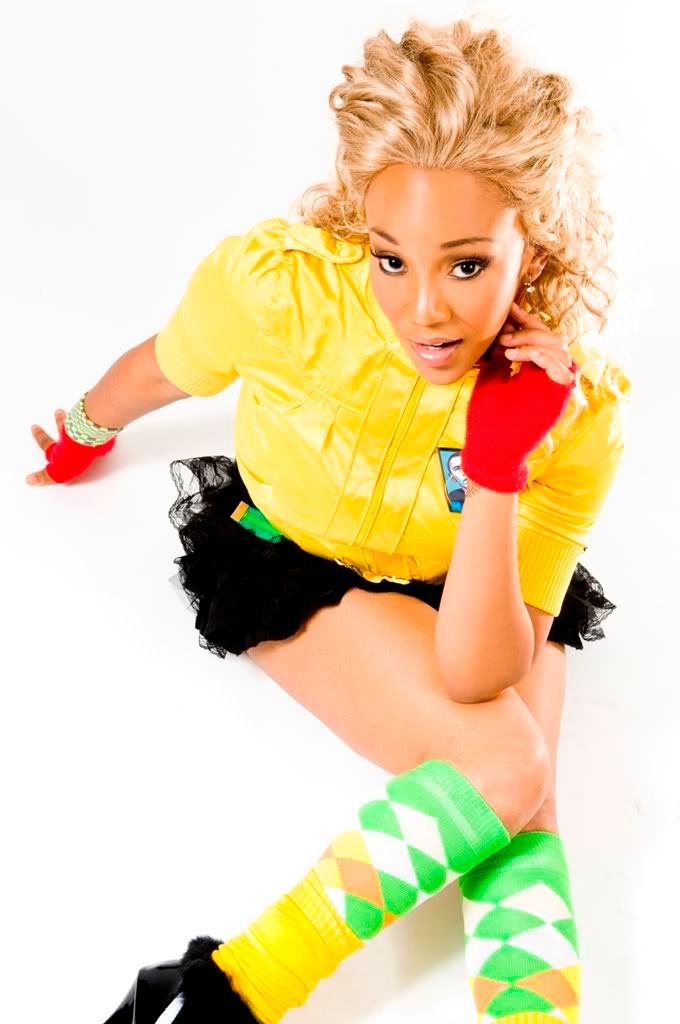 Dancehall's Princess Tifa Brown has been creating quite a buzz in the industry with her single "Spell it out". With the video just being released a few weeks ago, it has easily become one of the hottest videos out right now. It's currently number 6 on RETV's MVP countdown. The catchy single has been receiving a lot of airplay; it just entered Richie B's "Hot Mix" chart. This is Tifa's second chart topping single (The first being "Bottom of the Barrel"). The single and the video have been creating quite a buzz, and have been featured on numerous websites and magazines, both internationally and locally, with tremendous feedback.
Tifa along with T.N.T family, Timberlee and Natalie Storm, were flown to New York by DJ Max Glazer and Matt Gaios Business Class Records to record several songs. While in NYC, Brown was a special guest at the grand opening of the Sunglass Hut flagship store in Midtown; Manhattan along with some of New York's finest. Tifa had the opportunity to do numerous interviews with media outlets including Fader Magazines website, World Flavas Radio and Pat McKay on Sirius Radio.
The highlight of the hectic week was definitely her rocking performance at Federation Sound 10th Anniversary show at Club Santos. This featured, Tifa, Timberlee and Natalie Storm (T.N.T), Leftside, Chino and Sean Paul. The club was filled with superstars from 97's Dj Cypha sounds, Dj Strech Armstrong, Nikki Z, Producer Stephen McGregor and even Pop Princess Rihanna was in the house. "It was a really amazing, experience, the show sold off!, right now I'm focusing on taking my career to the next level, I'm heading back to New York for a few weeks to do some Recording and promotions, after some shows" Tifa explained.
T-I-F-A has been getting a lot of attention for her new single "Without Warning" on the La Perla Riddim produced by Esco on 111 Productions. Tifa also has a number of featured songs forthcoming in the next few weeks, including singles from Producers: Burch, Ward 21, and Kurt Riley.
Tifa is not just known for her music, but also her style. She recently got nominated for the Observer Style Awards, for the Peoples Choice Award. Other nominee's include: Konshens, Cecile and Kiki. Later this week, Tifa will be going to London, for two shows this Friday and Saturday, as well appearances in England.