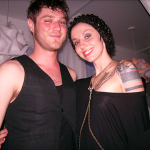 Last Saturday, Saint International's Glamour in the Sunshine, part of its Style Week 2K9, tried to remember the glory days of Port Royal, its glamour and excitement. But for the organisers, it was an attempt marred by contradictions.
The fashion show began two hours later than the scheduled starting time. There was no apology or explanation from MC Adrian Atkinson or from the organisers. And so for two hours the runway was a conduit for wandering guests and the busy crew. Their chatter and movements were only tempered by music played at a moderate volume. This scant regard for time was to be repeated later - the 20-minute break between segments becoming 30 minutes.
The designers came from Los Angeles, New York, Paris and Jamaica. For both genders, the designs ranged from frumpy to trendy; frivolous yet beautiful, and superb but edgy. The fabrics also depicted different textures from leather to silk.
Pablo Palai hails from Jamaica's second city, Montego Bay. His all-male spring/summer collection was beyond his two years in the fashion industry. His designs, obviously influenced by his roots in the tourist Mecca, captured components of the uniforms of sailors and sea captains. He dared to be bold with a pink shirt with ruffles with matching pink checkered trousers. His use of zipper on two-piece suits was appealing.
ut the most innovative use of zipper was seen in the Eymeric Francois five-piece women's collection. The Parisian created a masterpiece of a dress using only white zippers. He explained that the zippers can be closed, thus changing the shape of the dress.
"My designs are not wearable; they are transparent, sexy and exception. I use no fabric, only zipper, pins, embroidery and, or ribbons. They are glamorous and rough," he said.
New York-based Nzinga Myton of Kulcha Gone Wild impressed with her Mammi Cattle collection. This collection of swimwear was hybrid in form. "I bring different designs together," she told The Gleaner. "I take the top of an evening wear and mix it with a swimwear bottom." She further explained that her source for such designs and the title of this collection came from the behaviour of the crab Mammie Cattle. "Generally, crabs walk from side to side, but mammi crabs walk backways, making them different, like my designs," she said.
Recycled eco-fabric
Designer Tamiko Browne also showcased swimwear. They were made from recycled eco-fabric. Her deigns were flirty and sophisticated. She combined red, black and white to create trendy designs. O.B. Williams of HOD went for the frumpy look. Supported by colourful artificial flowers, the dresses were spectacular.
But Les Campbell's collection did not reflect his many years of experience in the fashion industry. His men's designs, except for the use of scarves, were mundane. And the women's dresses were a size too large for the models.
Other designers who had their works featured were Yola Grey, Samantha Black, Gilispie, White Skyy, Toby Crash, Andre Rowe, Ricky B and Kathy Kay.

SOURCE: jamaica-gleaner.com

Add Post To: | Digg| Technorati| Tip'd| del.icio.us| Stumbleupon| Reddit| BlinkList| Furl| Spurl| Yahoo| Simpy|