A.S.R Entertainment and Wray & Nephew have come to together to create a sweet party sensation know as "HONEY" with a "the Heavenly Experience". This event features ladies FREE all night and is looking to take the spot as the number one must attend house party of the summer. This heavenly event will be Friday, July 20, 2007 at 10:00pm at 1 Edgecombe Avenue, Barbican, Kingston Jamaica. Ear Candy will be provide by Coppershot & Bloodline Disco, so it will be sweet, sexy, fabulous ladies in attendance enjoying sweet and intoxicating music.
ADM:
- LADIES FREE, ALL NIGHT
- Gentlemen: $500 with flyer, $800 without.
Get your fliers from So-So Seafood Bar and Grill, Orders To Go, or pick up one anywhere you see them been distributed.
- Look out for free tickets when you Join The event Facebook Group; click here to Join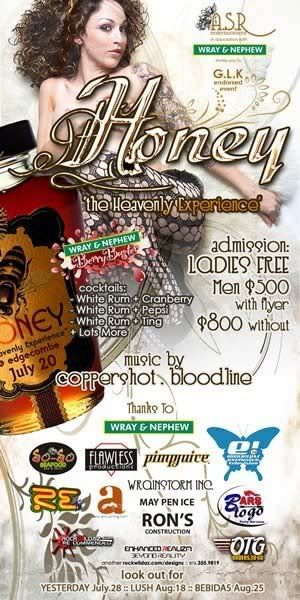 There will be Complimentary Hors'dourves courtesy of SO-SO Bar and Grill along with Wray & Nephew White Rum Berry Busters:
- White Rum + Cranberry
- White Rum + Pepsi
- White Rum + Ting
+ Lots More.
For more info email asr_entertainmen at asr_entertainment@yahoo.com
SOURCE
Technorati Cosmos: related links
jamaica
reggae
soca
hiphop
dancehall
caribbean
party
pop
gossip
rumours
Jamaica/