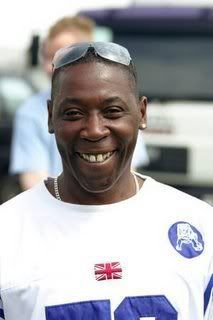 Daddy Turbo was DJing at school dances and youth clubs. After leaving school he spent a year studying music. Despite pursuing a football career, becoming an apprentice for Colchester United, Daddy Turbo kept his passion for music alive by playing at underground Reggae party's and buying records in London. In the 1990s he was offered a media course with CSV Media and was than given a slot at ICR FM presenting a Reggae & Dancehall show which ran for 3 years.
A change in the management and music policy at the station lead to Daddy Turbo leaving and starting Ipswich's first 24 hour underground station called Vibes FM, re launching as Flex Fm. Daddy Turbo has been in the business for 25 years and has become well known within the reggae industry in both the UK and overseas, especially Jamaica which he visited for the second time in 2006 where he met with top artists and producers.
When asked the question "what has been the highlight of your career so far?" he replied "playing in front of a Jamaican crowd in Montego Bay". He currently hosts the Friday night S Reggae & Dancehall Link up Show from 12pm till 2am. Log on to www.icrfm.co.uk for more details. He also has a show on BBC Radio Suffolk called Ebony Eye every Sunday 4pm till 6pm.
Log on to www.icrfm.co.uk for The Reggae & DanceHall link up Show with Daddy Turbo Every Friday 12am til 2am UK Time or Log on To www.myspace.com/daddyturbo
SOURCE