..."TELL DEM NUH BADDA TRY"...
Vybz Kartel and Aidonia were questioned by investigators of Operation Kingfish in the presence of their lawyer Valerie Neita-Robertson, who was representing both artistes.
Last week Tuesday, Operation Kingfish had announced that they wanted to question both deejays with regard to a photo that showed them posing with high-powered weapons. However, the deejays' lawyer Mrs. Neita-Robertson has questioned the authenticity of the photos and suggested that the photos were even taken outside of the jurisdiction of Jamaica.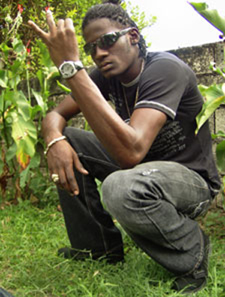 Aidonia and Vybz Kartel were released just hours after a grueling three-hour interrogation by Operation Kingfish investigators, without any formal charges being laid against them.
Top-notch Attorney-at-law Valerie Neita-Roberston said that the cops were satisfied that the pictures had been taken backstage at a stage show overseas and that the guns "were video props".
The artistes were wanted by the Operation Kingfish officers after they received a 'very disturbing photograph' with men who they said were Vybz Kartel and Aidonia allegedly posing with high powered weapons.

SOURCE:one876entertainment