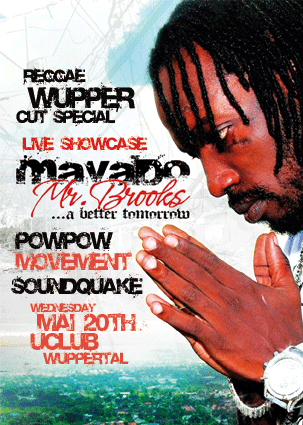 "Cassava Piece is in the building!" Is announced, the Entourage is already taking shape behind the DJ console of Alliance Selector Boom Boom. Shortly before then the first one, well-known war cries from the backstage area: "Anywaaaaay ..." Seconds later, it is so far Mavado enters for the first time a German stage
The audience in the U-Club Wuppertal today looks a bit different than most reggae events. Strikingly, many women are drawn to the crowd the front rows, for men today are more designer-shirts as a Red-Green-Gold announced - it is clearly an evening for the Dancehall Group. And now arrived from all over - how could it be otherwise when dancehall currently most successful agents will be honored there. David Constantine Brooks is to tour Europe and stops for the first time in his career in Germany.
The tension of whether the "Gangster for Life" by his two albums packed with hits that are instantly fill any dance floor, built up expectations, it is from minute to minute noticeable. "Just a couple more tunes" asseverate Sound Quake Pow Pow and the warm-up design time and time again. Then, finally Mavado entered the stage. A lanky figure in expensive designer clothes, his ghetto origins forget, around his neck dangles a diamond occupied Mickey Mouse. From the first tune to which all niederwalzenden "Top Shotta Nuh Miss" on the "Power Cut" - Riddim you realize that the Gully God is a good mood today.
The German audience gets a bit to see what else it did not know - a smiling Mavado. Excluding the effect Screwface Jamaican friendly, even charming, especially the ladies in the front rows seem to feel. With "Squeeze Breast" and "Car Back", the Tune-gyal-section started, what the women's world more joy elicits screams. Mavado has hit its catalog without major gaps for best newcomer Chase Cross calls for a song to the stage edge and visibly pleased that the German audience through his vigorous Patois, long road and not least a militarily correct understanding soaked weapons texts word for word can sing along.
After about an hour it says "Make noise if you want to hear one last tune," and after "Day Break" Riddim board "Nuh Bleach With Cream" Mavado leaves short and painless, without adopting a long encore, and the stage. The Wuppertal satisfied audience got a good humored Gully God to see whose voice against some fears in the run-up to the constant height, and with the recordings could quite keep up. Pow Pow and Sound Quake alternated until the early morning hours, to the well-filled club to keep in a good mood, and even George's Jamaican food stand was totally against 4 clock leergekauft. So a good evening for all concerned.

SOURCE

Add Post To: | Digg| Technorati| Tip'd| del.icio.us| Stumbleupon| Reddit| BlinkList| Furl| Spurl| Yahoo| Simpy|